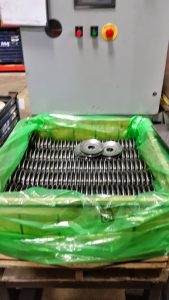 So, What Is VCI Anyway?
VCI was born in 1940's Chicago, where a quick-thinking gas station owner responded to a customer's request for a solution to rusting steel coils. He mixed rust preventative with oils to create a fast-acting, environmentally friendly alternative to traditional greases and oils.
He continued to experiment, combining the vapor corrosion inhibitor with volatile chemicals in order to transfer the solution from a carrier to the metal's surface. He chose paper as the likely carrier, and the result was a rust preventative embraced by Washington and used in World War II to ship spare parts to overseas troops as well as protect equipment and armaments in the field.
Now in high demand, the VCI paper invention spread to other industries with specific rust-protection needs: automotive, marine, transportation, aerospace, powered metal, metal casting, metal stamping, precision machining, firearms and more.
Is it fair to say that this VCI invention saved lives and continues to do so today? Is it fair to say that VCI products are army grade?
Say whatever you want. They work.
The legacy behind the original VCI paper lives on in Green Packaging's VCI products today.
Protect Against Corrosion While Protecting The Environment
All of Green Packaging's VCI papers are 100% recyclable.
VCI paper and VCI poly are environmentally friendly, non-toxic alternatives to rust-preventative oils and greases.
VCI chemistry relies on food-grade preservatives, making this an excellent choice for employee health and safety.
VCI products are nitrite-free and contain no phosphates, silicones, chromates or any other heavy metals.
Green Packaging's VCI products are the only choice for a sustainable, eco-friendly rust-prevention solution. VCI is healthy for the environment, your employees, your customers and your business.
Contact Green Packaging for a full assessment of your corrosion issues and request free samples of the most cost-effective rust preventatives available today.