EverGreen Inventory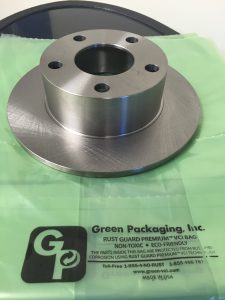 Running out of rust prevention methods and metal parts packaging is costly and expensive. Out-of-stock product means stalled production lines, increased costs for next-day shipping and strained customer relations.
But when you partner with Green Packaging, you never have to run out of VCI products again.
EverGreen Inventory Monitor
For our valued customers who buy with us on a regular basis, we monitor your inventory of VCI products to ensure that you never run out of VCI paper, bags or any other VCI products.
Our inventory monitoring gives customers one less thing to keep track of and worry about. We send low-inventory alerts based on product usage and order history. Let us worry about when your inventory levels may need to be checked, and benefit from same-day shipping on rush orders.
Depending on your usage and order history, your VCI products are constantly stocked and supplied, including specialty-sized bags. Even if you are waiting on a custom-sized VCI product order, Green Packaging still sends one of our hundreds of VCI products to keep you covered while you wait.
Our EverGreen Guarantee
Green Packaging's inventory of anti-corrosion packaging products provides customers with an unmatched selection of rust-prevention methods. With more items and sizes in stock than any other VCI company, you'll always receive what you need immediately.
Green Packaging designs custom packaging programs for our customers and stocks your custom-sized VCI products at no extra charge. This means you never have to wait for custom packaging again.
Allow Green Packaging to act as your warehouse. We offer bulk and pallet pricing with just-in-time shipping.
After browsing our VCI products, if you still need help deciding which one is best for you, contact Green Packaging President Wayne Siefert directly for a free, streamlined corrosion consultation today.