The Key To Rust Prevention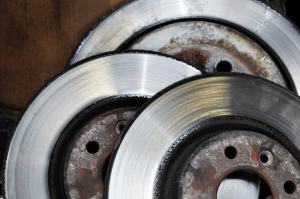 Corrosion is a natural process in which metal tries to return to its original state of ore. The process starts when electrons flow from high to low energy through a solution on the metal's surface. This solution is called an electrolyte, also known as water, rain, salt water, humidity or another form of moisture. If you want to exercise exceptional rust prevention, you must pinpoint when the corrosion process starts and what initiates the process.
Other factors to consider in rust prevention:
Which metals are more susceptible to corrosion than others?
Where do gaps exist in your metal parts manufacturing and packaging process that contribute to corrosion?
What environmental factors – temperature, humidity levels and contaminants – inside your plant are increasing the opportunities for oxidation?
When dealing with rust, the color is indicative of the cause:
Yellow rust is wet and drippy, caused by high moisture and the presence of water somewhere on the metal's surface.
Brown rust is dry, caused by high oxygen and low moisture in the packaging or plant atmosphere. It's likely that the metal surface became contaminated during the manufacturing process.
Black rust is caused by limited oxygen. It's possible that the metal was covered by another part or packaging element, preventing oxygen from reaching the surface.
Are your metal parts experiencing corrosion? Still not sure what to do to solve your rust problems? Start with a simple assessment.
Are You Making These Mistakes?
Not wearing gloves when handling metal parts.
Packaging metal parts in direct contact with wood crates, pallets, corrugated boxes, etc.
Leaving metal parts uncovered and unprotected in the plant.
Storing metal parts in manufacturing or heat treatment areas.
Not thoroughly drying metal parts after they come out of cleaning solutions.
Not keeping your metalworking fluids clean.
Not using deionized or distilled water in cleaning fluids and metalworking fluids.
Using an improper pH level in metalworking fluids and wash water.
Not monitoring atmospheric conditions inside the plant.
Improperly using rust-preventative oils.
Using the wrong VCI packaging product.
Not using enough VCI packaging or not bundling your packaging products.
If you're making any of the above mistakes during processing or packaging, download our complimentary tip sheet and learn how to eliminate rust forever.