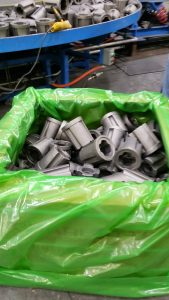 Today's rust-prevention methods are many, but one method remains the most effective of all: vapor corrosion inhibitors.
VCI works at every stage of your product's lifecycle. Providing protection from the time of manufacturing to the time of delivery to your customers, VCI packaging is time-sensitive and cost-effective. It eliminates the extra metal parts processing steps associated with cleaning, drying, degreasing, sandblasting and re-applying rust preventatives.
Metal parts manufacturers that use VCI packaging for their parts usually experience less re-working of parts, fewer rejected parts from unhappy customers and a longer parts life overall.
For some of these manufacturers, VCI bags are the go-to option for utilizing vapor corrosion inhibitors.
How VCI Bags Work
Metals packaged inside rust-prevention bags, specifically Rust Guard Premium™ VCI poly bags, receive continuous corrosion protection from water, salt, atmospheric contaminants and galvanic corrosion initiated by dissimilar metals.
The vapor corrosion inhibitor molecules ensure complete corrosion protection at any stage of your manufacturing, storage and shipping processes.
Parts packaged in Rust Guard Premium™  VCI bags remain free of rust, stains and tarnish for up to 2-5 years. These bags are non-toxic and recyclable, replacing traditional corrosion inhibitors of the past.
The Varieties Of VCI Poly Bags
All bags below are suited for aluminum, galvanized steel, cast iron, carbon steels, silicon steel, stainless steel, silver, copper and brass materials:
VCI Plastic Gusset Bags: Saturated with vapor corrosion inhibitors and available in light tint or clear, VCI poly gusset bags enable easy inspection of small to medium-sized metal parts.
VCI Heat-Sealable Bags: Easy-to-use, recyclable and eco-friendly, VCI heat-sealable bags take corrosion protection a step further.
VCI Zipper Bags: These re-closable bags provide a barrier protection for multi-metals. Easy to ship and pack, VCI zipper bags are recyclable and FDA compliant.
VCI Stretch Film: Perfect for pallets, VCI stretch film is available in hand wrap and heat-shrink wrap. It not only stops rust, but also secures parts and packages by eliminating the use of pallet straps.
VCI Tubes And Tubing: If you package parts of varying sizes, the tube-on-a-roll approach may be your best route for rust protection. Cut and apply on a case-by-case basis.
Choosing The Right VCI Provider
Once you've decided which VCI packaging method is best for you, there's one more key ingredient to ridding rust from your life forever: picking the right provider.
Because rust problems are unique per industry and company, you need a partner with experience that's geared specifically to your needs. The sign of the right partner is the ability to provide you with industry materials and references. If they're unable to do so, you may need to continue shopping around.
Download our STOP RUST NOW package below to examine every step of your metal parts packaging process and ensure that your rust-prevention methods don't let you down.