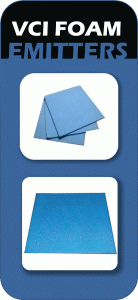 Green VCI foam emitters provide both excellent cushioning and corrosion protection of metals within a package or enclosed space. Green VCI foam is manufactured using a unique blending process in which a concentrated level of volatile corrosion inhibitor (VCI) is infused into the foam, allowing maximum volatilization while maintaining the physical characteristics of the foam and providing long-term corrosion protection.
Typical Properties
Foam Type:
Polyurethane open cell
Size:
10" x 10" x ¼" (254 x 254 x 6.35mm)
(also available in custom sizes)
Corrosion
Protection:
Up to 8 cubic feet (0.23 m³) for 24 months
Odor:
Slight
Color:
Off White
Applications
Green VCI foam provides corrosion protection and cushioning during transport of automotive, telecommunications, and electronic parts. Can be used in conjunction with traditional VCI packaging, such as poly bags and when additional non-abrasive protection is also desired.
Metals Protected
Carbon steel, iron, cast iron, stainless steel, copper, brass, aluminum, zinc galvanized steel, solder.