VCI Emitters From The Anti-Rust Experts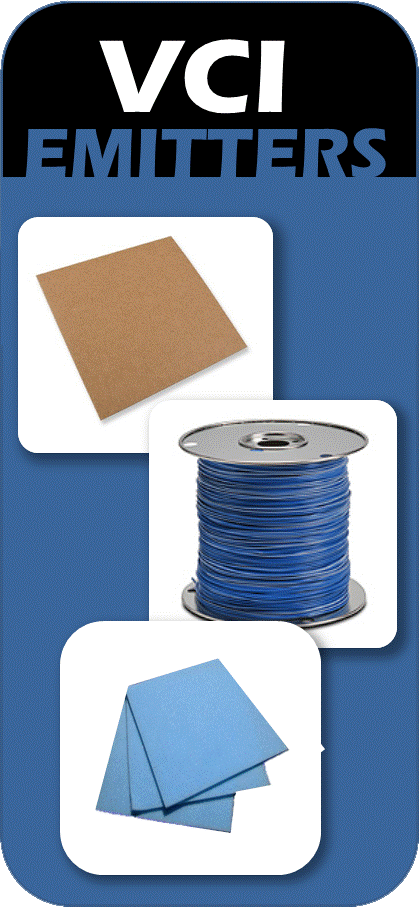 VCI foam emitters from Green Packaging provide corrosion protection and cushioning benefits for packaging and enclosing metal parts. VCI wire strips are designed for the corrosion and rust prevention of tubes, pipes or conduits in storage and during shipping.
VCI emitters should be used with other VCI packaging products, including VCI poly bags, for complete corrosion prevention.
VCI Foam & Wire Strip Emitters For Corrosion Prevention
For corrosion prevention during packaging and in enclosed air space, VCI foam and wire strip emitters provide long-term shipment and storage protection. VCI foam and wire strip emitters are perfect for metal parts with unique and unusually sized dimensions.
Choose from VCI foam emitters, wire strip emitters or other emitters, such as chipboards, powder packs and more. We proudly carry a variety of emitters for a variety of applications.
VCI Foam Emitters
VCI foam emitters blend a concentrated level of vapor corrosion inhibitor (VCI) with foam for corrosion protection on the following metals:
Carbon Steel
Iron
Cast Iron
Stainless Steel
Copper
Brass
Aluminum
Zinc Galvanized Steel
Solder
The physical characteristics of the foam allow for easy packaging and ultimate rust prevention. VCI emitters are especially effective when placed inside electrical cabinets, boxes, crates or hermetic packages. Appropriate for those difficult-to-package applications, VCI emitters work with large metal or partially metal items as well as those with uncommon dimensions.
VCI Wire Strip Emitters
Designed specifically for the corrosion protection of tubes, pipes or conduits in storage or shipping, VCI wire strip emitters slowly release vapor corrosion-inhibiting action on metal exteriors and hard-to-reach metal surfaces.
Metals protected by VCI wire strip emitters include:
Carbon Steel
Stainless Steel
Copper
Brass
Aluminum
Silver
Galvanized Steel
Solder
Silicon Steel
Within hours of packaging, the vapors from the wire strip saturate the enclosed airspace for 24 months of protection against rust and corrosion.
Not only useful in packaging items, VCI emitters can also find use in electronics or other large metal enclosures when in storage or in use. The foam emitters can help protect expensive electronics and other installations from corrosion in virtually any environment, particularly ones with higher than average moisture. This technology can save businesses and companies thousands of dollars in replacement and repair costs. VCI emitters only run the cost of replacement every two years, considerably more affordable than replacement or repair.
Buying effective VCI emitters has never been as easy as this. Available in multiple sizes, simply find the right dimensions for your products or contact us for a free quote on any metal work that needs to be properly protected from corrosion. With rust inhibitor paper, water-based rust preventative, metal rust remover and numerous other products geared towards stopping corrosion in its tracks, Green Packaging has become one of the most trusted online destinations for those in the metalworking industry. 
Contact us online or call us at 1-855-4-NO-RUST (1-855-466-7878) for a price quote on VCI foam or wire strip emitters that meet your exact size requirements or to learn more about everything Green Packaging has to offer.