Desiccant Bags From The Anti-Rust Experts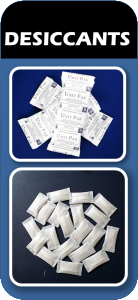 Desiccants offer metal parts manufacturers quality assurance through ultimate moisture absorption and corrosion prevention in shipping containers.
The desiccant bags manufactured by Green Packaging use the same vapor corrosion inhibitor technology found in all VCI products for ultimate rust prevention.
Corrosion Prevention Through Moisture Absorption
Desiccants are drying agents used to reduce and maintain humidity levels inside shipping and storage containers.
Unlike VCI paper and poly bags, which are designed to prevent moisture and curb the corrosion process on metal surfaces upon contact, desiccant bags are strictly designed to absorb moisture in an enclosed air space. In fact, it's recommended that desiccant bags never actually touch the metal surfaces.
The rust-preventing effects of desiccants are further optimized when used with other VCI packaging products.
Quit risking your image and your bottom line. Don't lose the battle against oxidation.
For more information on how to use desiccants for your specific metal parts shipping and storage purposes, call Green Packaging at 1-855-4-NO-RUST (1-855-466-7878) or contact us online.