Our second essential procedure in this series is 'wood is not good!' This tip will help keep your metal parts from falling victim to corrosion; no need to knock on wood here.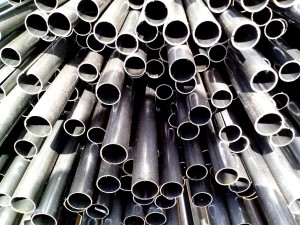 Let's start first by understanding what a wood product is. Corrugated cardboard boxes/ cartons, pallets, crates, wooden boxes and any untreated paper are wood products. The thing about wood is that it comes from trees and trees are really good at absorbing moisture, that's great for them; bad for metal parts.
Those wood products and even many untreated plastics all contain moisture, acids and chlorides. When those wood products come into contact with metal pieces, they leave a residue. That residue whether it's from water or a chemical the product was treated with, causes corrosion on parts, completely ruining one, or many pieces.
Identifying The Problem
Typically, metal pieces shipped or packaged in direct contact with wood products are easy to identify. The pieces tend to have 'sporadic rust', rust that has affected certain pieces (the ones that came in direct contact the most) and not others. Once you've identified the problem, the solution is relatively simple.
The Solution
Preventing rust requires you to buy rust preventive supplies. Using them properly, you want to create a barrier for your metal parts between them and anything that can cause corrosion. By placing VCI paper in your packaging, pieces never have to come into contact with the moisture and chemicals that wood products contain. VCI bags can also be used to the same effect.
When you consider all the things that can come into contact with metal pieces during the packaging process, the actual packaging itself can be one of the last things you consider, but it can also be a leading cause of corrosion and complete loss of parts. By following this step, you prevent a nasty surprise from rearing its head when your pieces arrive at their destination. 
Check back in with us next month when we'll be covering another essential process, properly covering metal parts and protecting them from open air. In the meantime, if you're looking to buy rust protection, Green Packaging Inc., is the right place.